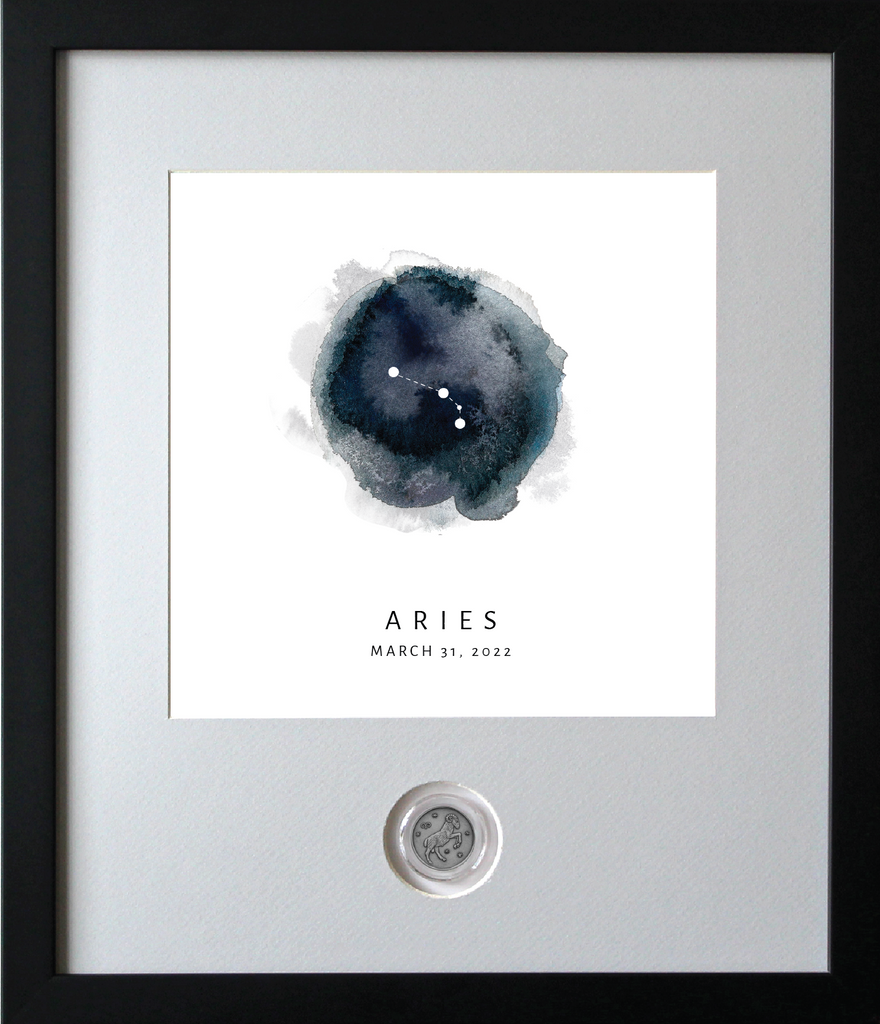 Aries Zodiac Constellation CoinArt
Details
This Zodiac wall art features an Aries watercolor style constellation print, accented with silver metallic stars and customized with date of birth (name optional). Aries, the first sign in the Zodiac, is named for the ram constellation and represents those who are born between March 21 - April 19.

The print will be mounted and displayed along with a stunning keepsake Zodiac Aries coin. Each coin is struck one at a time in the U.S. using antique machinery and traditional coining techniques. Measures .87" in diameter (about the size of a quarter) and is made of 1/4 oz of solid .999 silver. This framed piece measures 14" x 12" and will be custom made - just select mat color and frame style. Delight a friend or loved one with a personal gift that truly shines - perfect for Birthday or Newborn gift!

This product includes the following:
Custom Zodiac constellation print in shades of teal, dark blue and gray - personalized with sign / date of birth and accented with metallic silver stars. If you wish to include a first / middle name, please provide in the space provided. Please note that due to different computer monitors, final color print may vary.
Please email us at coinartco@gmail.com if you wish to incorporate one of the other 11 watercolor designs (shown in slides 4 and 5) with your constellation sign - we would be happy to mix and match!
Print is mounted with the mat board and frame style of your choice: Modern Black, Modern White, Modern Maple, Vintage Black, Vintage White or Barnwood Brown. USA made frame. 
Gift card which features the Aries sign and provides a brief description along with information about the silver Zodiac coin.

Framed print comes protected under a crystal clear acrylic face with a sawtooth hanger. Finished piece measures 14" x 12".

Zodiac Aries silver coin enclosed in an acrylic air-tight coin capsule (solid .999 silver in antique finish / about the size of a quarter).
If you wish to insert your own keepsake coin, please indicate what type of coin and we will include an air tight acrylic coin capsule and step-by-step instructions.
An artwork proof will be sent to you via email for your approval within 2 to 4 business days. To purchase a gift box for this framed print, please purchase separately (see listing in shop). If you are interested in other coin possibilities or if you wish to insert your own keepsake coin, please message us!