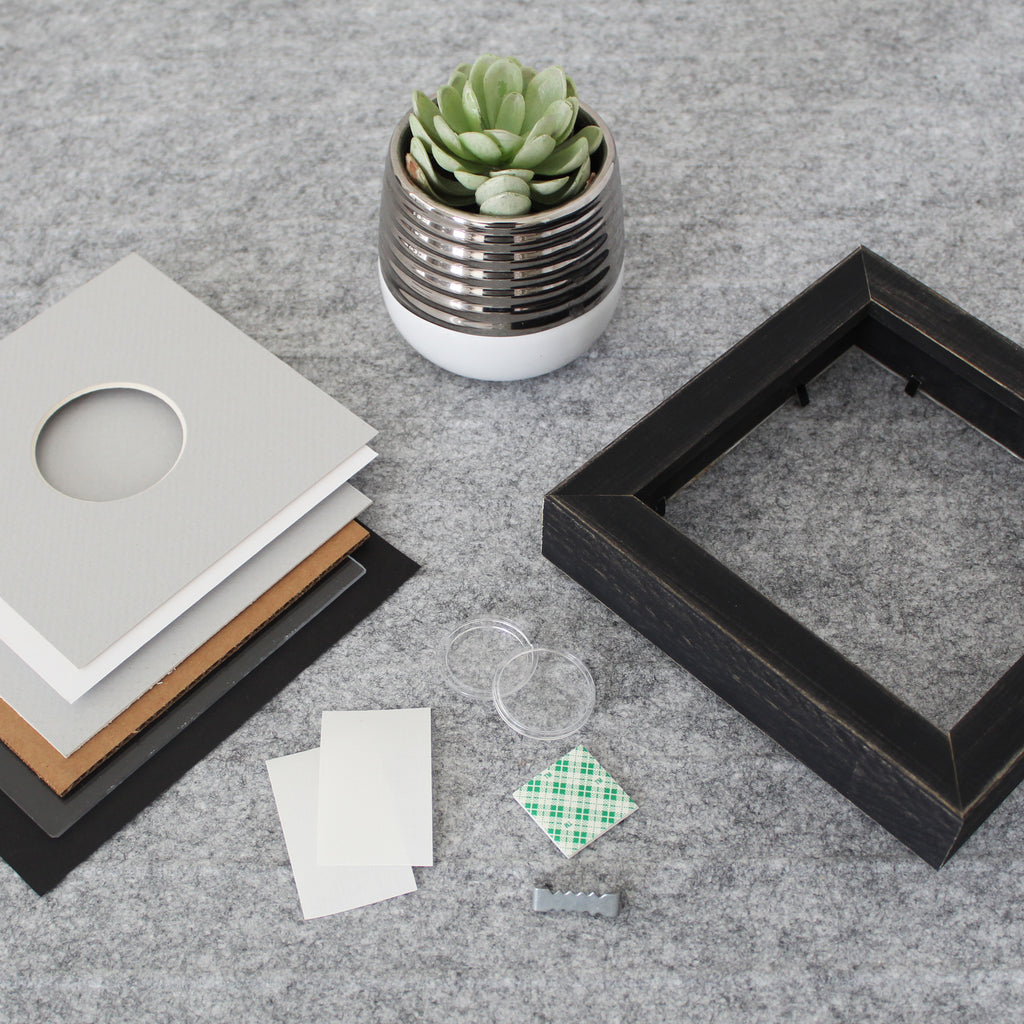 Details
This Coin Frame DIY Kit is designed to display most U.S. minted coins. Please read all measurements before placing order. Thanks!

Our DIY CoinSquare Kits are exclusive to The CoinArt Company and are designed to complement a family gallery wall, mantle, shelf, desktop or any other small nook in your home (measures 6" x 6"). They allow you to easily frame a special family coin, a military challenge coin, a vintage lucky sixpence or any other small, flat object (coin not included). They can be hung or even displayed on a shelf as a meaningful reminder of a family member, military unit, wedding or other special occasion.

This product is a DIY kit in which you will insert your own coin. Each kit includes the following:

- Wood frame of your choice. Please select one of our frame options: Modern Black, Modern White, Vintage Black, Vintage White, Barnwood Brown, or Vintage Navy (out of stock).
- Mat board of your choice (gray or white) with round custom cut-out.
- Mat measures 5" x 5" and finished frame measures 6" x 6".
- Sawtooth hanger and black dust cover for a finished look.
- Crystal clear acrylic face with protective film, foam core and corrugated filler. NOTE: Photographs above do not include the acrylic face (due to glare).
- Tell us the type of coin you intend to display and we will include an air tight acrylic capsule to protect your coin's integrity (optional). NOTE: If you are displaying a challenge coin, please provide diameter measurement. If your challenge coin has raised portions, you may wish to frame without a capsule.
- Easy-to-understand instructions.

Sample Coin Squares above:

1) Challenge coin with beige mat and Vintage Navy frame (no longer available).
2) Rainbow-toned Benjamin Franklin Half Dollar with gray mat and Modern Black frame (with capsule).
3) British Sixpence Coin (sold separately - bride can first wear in her shoe!) with white mat and Vintage White frame (no capsule).